Skin Better Science
Products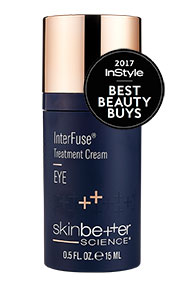 InterFuse Treatment Cream
Improving the appearance of crow's feet, wrinkles, puffiness and under-eye darkness.
Patented delivery technology drives ingredients faster and more efficiently to maximize nourishing benefits.
A neuro-calming peptide relaxes the appearance of crow's feet almost immediately.
Vitamin C provides antioxidant and skin brightening benefits.
Relieves the look of under-eye puffiness through a blend of caffeine and a highly specialized yeast derivative.
Diminishes dryness and locks in moisture with a synergistic blend of humectants.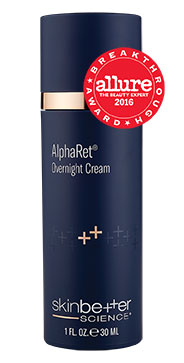 AlphaRet Overnight Cream
A unique combination of an alpha hydroxy acid (AHA) and a retinoid that provides visible skin rejuvenation with little-to-no irritation.
Significantly reduces the appearance of wrinkles in as little as four weeks, with little-to-no irritation.
Combines two gold standard skin rejuvenation ingredients— a retinoid and lactic acid—to create a revolutionary double-conjugated retinoid.
Provides moisture to help counteract dryness associated with traditional retinoid-based products.
A blend of antioxidants helps neutralize free radicals.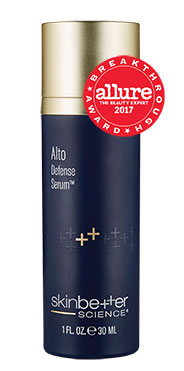 Alto Defense Serum
Daily antioxidant protection and improvement of the appearance of uneven tone and redness.
Combines Vitamin C and E + 17 additional antioxidant ingredients designed to provide a new level of comprehensive and dynamic defense against free radicals.
Enhances vitality and improvement in skin tone and luminosity.
Reduces the appearance of skin redness.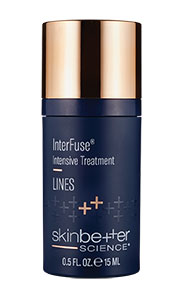 InterFuse Intensive Treatment
A no-needle, hyaluronic acid solution that improves the appearance of lines and wrinkles.
Patented, state-of-the-art delivery technology drives high molecular weight, injectable-grade hyaluronic acid faster to topically fill the appearance of expression lines.
Four additional types of hyaluronic acids of varying molecular weights work to bind water to the surface of the skin to improve moisture retention to plump the appearance of lines and wrinkles.
Expression lines appear immediately smoother with a blend of two neuro-calming peptides.
A collagen-nourishing complex of an amino acid building block, messenger peptides and vitamin C works synergistically to support collagen.
This targeted formula helps reduce the look of deep wrinkles and expression lines and is complementary to in-office treatments.